Warming Up for Halloween🎃- CH Newsletter #89
Posted on :
October 26, 2023
As part of joining our private student residence, our members receive weekly updates about the community, upcoming events, developments in the student residence and any other relevant news. We've decided to post these updates on our website in order to let our visitors looking for student housing get an inside view of the Chelsea House student life!
Dear Chelsea House family,

Welcome back to the CH Show!!! 📺 - It's that time of the year again - MIDTERMS! 📆📚 And we totally get it – juggling school and life can sometimes feel like walking a tightrope 🤹‍♀️. But guess what? You've got this, and we believe in you! 💪🌈

So, go out there and rock those midterms! 🤘💯 You've got this, and we're cheering you on all the way! 🎓🌟✨





THE INSIDER'S REPORT: MONTREAL NEWS YOU NEED TO KNOW
If you're new here (which many of you are - we've added 4 new members who are coming in Fall 2023 this week!! They'll be lurking in the newsletter from here on out 😝) - the Insider's Report is where you benefit from the Community Team's local Montreal knowledge to guide you, dear CH student residence members, to what we hope is a true student housing experience. In all cases, forget the tourist traps, here's WHAT YOU NEED TO KNOW, for this week.

Embrace the ghostly season @ KARNAVALE. 👻
Join KARNAVALE Festival at New City Gas in Montreal for a unique Halloween experience.
On October 27, dance to Dimitri Vegas & Like Mike's beats, and on October 28, party with MORTEN. Dress up for a costume contest with a $5,000 prize.
Get your October 28 tickets at $30 (regular) or $55 (VIP) and make this Halloween unforgettable! 🎃🎉
When: October 27,28 2023
Google maps link: New City Gas

Prepare for the winter season without breaking the bank!🧥

Shop winter jackets at LJJ Essentials' warehouse sale in Montreal from October 19 to 22.

Prices start at just $29.99, offering huge savings from $299 to $399. Find jackets for men, women, and kids, featuring brands like Columbia and FTX Outerwear.

Visit 7177 Boulevard Newman next to Carrefour Angrignon, open 10 a.m. to 8 p.m. (Thurs & Fri), 10 a.m. to 5 p.m. (Sat), and 10 a.m. to 4 p.m. (Sun). Payment options include cash, Interac, credit, and Apple Pay. Stay warm this winter! ❄️🧥

When: October 19 to 22, 2023 10:00 am to 5:00 pm

Google Maps Link: LJJ Essentials' warehouse sale
Who says Hotel Dining isn't in?💯
Montreal hotels now excel in dining! 🍽️ Take Restaurant Stanley at Centre Sheraton Montréal, for instance. Redesigned by Camdi Design, it offers stylish dining with a diverse menu.
Chef Alexandre Martin's "me/we" menu suits both solo and shared dining, emphasizing local Quebec ingredients, including cheese 🧀, meat 🥩, and seafood 🦐.
Stanley is known for high-quality food and top-notch service, providing a memorable dining experience in the city center. 👌
When: 6:30 am to 11:00 pm everyday.
Where: Restaurant Stanley
🚨CHELSEA HOUSE COMMUNITY VIBES UPDATE 🚨
Ariela's 🇲🇽 Top Ten Activities for Fall in Montreal!!🍁
Attention Chelsea! Get ready to embrace the magic of fall in Montreal with these must-do activities.
Whether you're an adventure seeker, a pumpkin lover, or just looking for a good scare, we've got you covered.
1. Apple Picking🍎:
Head to one of these apple picking spots close to the city and fully embrace the fall spirit!
Hillspring Orchards - Just an hour and 15 minutes from Montreal, this orchard offers U-pick apples from early September to late October.
Verger au Coeur de la Pomme - A little over an hour's drive from Montreal, this place opens from mid-August to mid-November, with U-pick starting in early September.
2. Mount Sutton Adventure🧗‍♀️:
For a city escape, Mount Sutton is a fantastic choice. Enjoy a thrilling zipline coaster adventure, and don't miss the hiking tour to spot outdoor sculptures like bears and owls. Remember to bring suitable shoes for this exciting mountain exploration!
3. Haunted House Experience👻:
If you're brave enough, venture to the Malefycia Haunted House at 6945 Avenue du Parc for an immersive horror experience that will leave you screaming for more
4. La Voûte (Club)🪩:
For all the nightclub lovers, La Voûte's Halloween Ball on October 31st is a must-attend event. Dress up in your spookiest costumes and get ready for a night of scares and surprises.
5. Botanic Gardens Montreal🪴:
The Botanical Gardens Lantern Festival is a sight to behold until October 31st. Don't miss the chance to immerse yourself in this breathtaking nature.
6. Cute Fall Picnic🧺:
Take advantage of the stunning Westmount Park for a cute fall picnic with friends.Enjoy the beautiful leaves and crisp autumn air.
7. La Ronde🎢:
Montreal's amusement park, La Ronde, transforms into a Halloween wonderland in October. Experience thrilling haunted houses and Halloween-themed rides, perfect for adrenaline fans
8. Pumpkin Hunting🎃:
For pumpkin carving, decorating, or just taking adorable fall photos, visit the Jean-Talon Market or Atwater Market and surround yourself with beautiful pumpkins.
9. Pumpkin Spice Lattes:
Fall is the time for cozy beverages, and almost all local cafes now offer pumpkin spice lattes. Sip on this warm, aromatic drink that will transport you into a cozy autumn wonderland.
Best pumpkin spice lattes at: Crew Collective & Café
10. Mont Royal Adventure:
Take a leisurely walk with friends on Mont Royal, wrapped in a warm scarf and sipping on a pumpkin spice latte. Enjoy a picnic, study, or engage in a plethora of activities surrounded by the mesmerizing colors of changing leaves.
Montreal in the fall is a season like no other! Embrace the coziness and beauty of the city this autumn !
🌟 Let's dive into the exciting world of the Chelsea house members and see what they've been up to this week! 🏡💃🕺🎉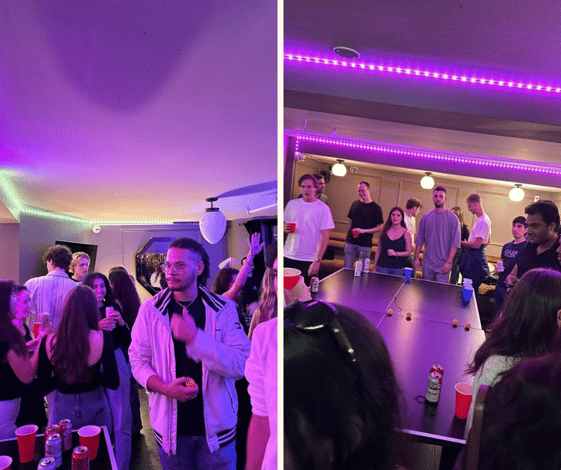 Enchanted October: A Pumpkin Carving Night and Mesmerizing Masquerade Party!🎭🎃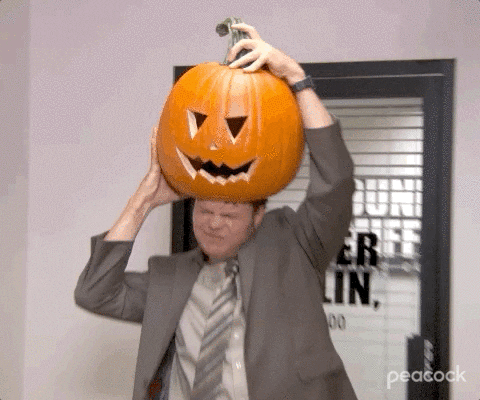 Join us for a delightful evening of enchantment and creativity! ✨ On October 23, Monday, we're hosting a Pumpkin Carving Night 🎃 that promises to be a spook-tacular time. Bring your artistic flair 🎨 and carve out jack-o'-lantern masterpieces 🌟 that will light up your Halloween! 🎃🕯️
But the magic doesn't stop there... mark your calendars for October 28th because we're throwing a mesmerizing Masquerade Party 🎭 that you won't want to miss. Dress in your finest attire 👗👔 and don your most mysterious mask 🎭 as we dance the night away 💃🕺 in an atmosphere of mystery and allure. ✨💃🌙
Get ready for a season of fun and festivities 🥳🎉, and we can't wait to see you there! 🎉🥳👻
MONTHLY MEMBER RAFFLE 🎟️ 🔥
Our October monthly member raffle is now ongoing!💯
So, whether you're capturing the stunning fall foliage from your window, showcasing your cozy apartment decor, or simply sharing your Chelsea lifestyle, don't forget to TAG us! 📷🏡🍂
Wishing you all the best of luck and loads of autumnal joy! 🍀🎃🌰
How do you enter the raffle, you may ask?
🎟 Tag @livingatchelsea on your instagram Stories (1 entry)
🎟 Post a photo and tag @livingatchelsea (2 entries)
🎟 Post a video and tag @livingatchelseea (3 entries)
🎟 Make a reel for the Chelsea House instagram page (10 entries)
🎟 Film a testimonial on your experience and Chelsea House (20 entries)
🎟 Get your parents to film a testimonial on your experience and Chelsea House (25 entries - because we love feedback from Mom and Dad ❤️ )
MEMBER SPOTLIGHT: Priscilla from Lima, Peru! 🇵🇪

(Btw we put everyone's nationality flag so you learn your flags and realize how global the CH Fam really is)
Meet Priscilla from Lima, Peru! 🇵🇪
Priscilla is about to embark on an exciting journey as she delves into the vibrant world of business and management at UDEM! 🚀💼
Priscilla's a dynamo! 💥 She's all about 🐎 horseback riding, strutting her style in the latest 👗 fashion, and getting revved up with some 🏎️ F1 action.But that's not all – she's a 🎤 singing sensation, a 🍰 baking maestro, and a 💪 gym enthusiast. And when the weekend rolls in, she's out on the town, painting it red with her squad! 🎉
Thank you for being a part of the Chelsea House family, Priscilla!!! 🥹
I
f you happen to bump into Priscilla throughout the House, make sure to say Hi ! 👋
SHOW ME THE MONEY!! THE STUDENT JOB BOARD FOR SOME PART-TIME CASH $$$
Store associate @ Nike
As a dedicated Nike team member, one must passionately embrace Nike products and services, excel in various store Athlete roles, prioritize exceptional customer service, foster positive relationships with customers and colleagues, and demonstrate flexibility in scheduling for the success of the store community.

Apply here.



Sales and Service Associate @ The Time shop


The Time Shop in Hudson Bay's GMA store is hiring sales and service associates with a mix of technical and sales skills. We offer on-the-spot watch repairs and a range of high-end products for sale. Flexible hours, including weekends and evenings.

Apply here.





Seasonal Sales Associate @ North Facel

As a team member, you will excel in personalized customer engagement, provide valuable product knowledge, and promote continuous learning to enhance customer experiences. Your role involves meeting sales targets, maintaining visual standards, assisting with cashier duties, executing Loss Prevention initiatives, and contributing to store upkeep.

Apply here.


🚨HOUSE UPDATES🚨


REMINDERS 🚨
Key and fob 🗝️
As a cherished member of our community, you'll be entrusted with a trio of keys that will unlock the doors to your apartment life.
But here's the deal, folks: when the time comes to bid farewell we kindly ask that you return those precious keys and fob back to us. We wouldn't want to miss a chance to thank you in person for being a part of our amazing community!
Now, let's talk about the "Oops! I've lost my key" scenario. Fear not! We've got you covered. In the unfortunate event that you misplace any of these keys, there's a small fee of $75 for each key or fob you need to replace.
Are you enjoying your Chelsea House Experience so far?
It would mean the world to us if you could take a few minutes to share with us your thoughts (check out the link below).
Alright, that's it for now!
Stay Classy,
The Chelsea House Community Team
Missed last week's Newsletter? We got you! 😉 Click here.