Fall Summer Vibe ☀️ - CH Newsletter #87
Posted on :
October 10, 2023
As part of joining our private student residence, our members receive weekly updates about the community, upcoming events, developments in the student residence and any other relevant news. We've decided to post these updates on our website in order to let our visitors looking for student housing get an inside view of the Chelsea House student life!
Dear Chelsea House family,

Welcome back to the CH Show!!! 📺 - How lucky are we with this sudden surge of summer ☀️ ENJOY it while it lasts !! Winter is coming 🥶
As we know midterms are creeping up on you, in this newsletter now that the school year is in full swing, we understand that you're busy with schoolwork and classes. Here at CH, we want to ensure that you have a great learning environment for both studying and relaxation. So, if there's anything you need, we've got you covered!💯



THE INSIDER'S REPORT: MONTREAL NEWS YOU NEED TO KNOW
If you're new here (which many of you are - we've added 4 new members who are coming in Fall 2023 this week!! They'll be lurking in the newsletter from here on out 😝) - the Insider's Report is where you benefit from the Community Team's local Montreal knowledge to guide you, dear CH student residence members, to what we hope is a true student housing experience. In all cases, forget the tourist traps, here's WHAT YOU NEED TO KNOW, for this week.



Making the Commute Easier!!! 💯
Montreal's STM is set to ease the frustration of bus commuters by introducing more frequent 🚌 bus lines, mirroring the predictability of the metro system 🚇.

Wait times on these frequent lines will range from just two to 12 minutes ⏰, offering a more flexible approach for travelers ✈️.

With over half of bus travel in the greater Montreal area now on these frequent lines, including both all-day and peak period options 🌆, the city aims to ensure a smoother and less stressful commute, making it easier for people to "turn up and take off" without meticulous planning 🚀.

Weather Update: Winter is Coming! 🥶
Eastern Canada is currently enjoying warmer-than-usual weather ☀️🌡️, but this heatwave is about to come to an abrupt end.

The polar vortex's expansion and an amplified weather pattern are pushing it southward, bringing much cooler conditions with temperatures as much as 8 to 10 degrees Celsius below seasonal norms 🌬️❄️.

Despite the cold, there won't be snow in Quebec, but northern Ontario is anticipating wet snow over the holiday weekend ❄️🌨️. In Montreal, temperatures are set to plummet to 13 degrees Celsius during the day and seven degrees at night, with rainy conditions persisting for five days starting October 8, 2023 ☔🌧️.
Try Out Something new at A&W!🤤
Part of your Canadian education is us helping you learn about Canadian fast food, one of which is A&W. High quality burgers (family named, like the Teen Burger, the Mama, the Papa) and known for their ice-cold root beer. It's a thing, trust us.

Well, A&W is launching 3 new burgers !! The lineup features the Nashville Hot Chicken Cruncher with spicy glaze 🔥, the Chubby Chicken Cruncher with mayo and lettuce 🥪, and the BLT Chicken Cruncher with bacon, lettuce, and tomato 🥓🥬🍅.

The nearest A&W is a quick walk from CH on Atwater (A&W Canada). Pro-tip is having a takeout A&W burger that you sneak into Cineplex movie theater next door, suggestion of our movie-loving founder PJ lol.
🚨CHELSEA HOUSE COMMUNITY VIBES UPDATE 🚨
MAMBO ITALIANO -
Sergio's 🇮🇹 Carbonara LunchLast Sunday, on October 3rd, our culinary maestro Sergio 🇮🇹 treated the CFAM (Central Family and Friends) to an unforgettable dining experience with his mouthwatering carbonara! 🍝

Thank you Sergio!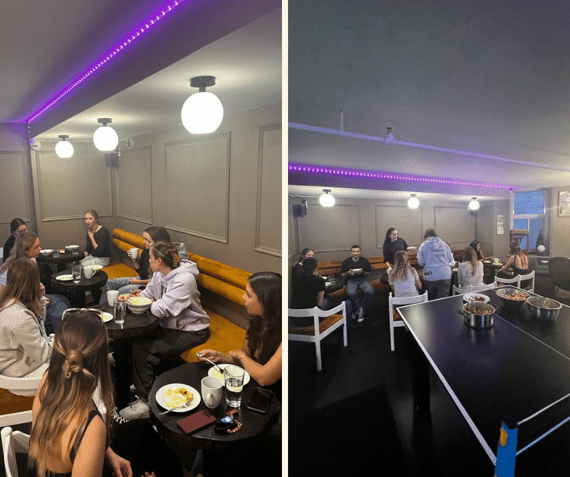 Areila's 🇲🇽 top food spots! 🔥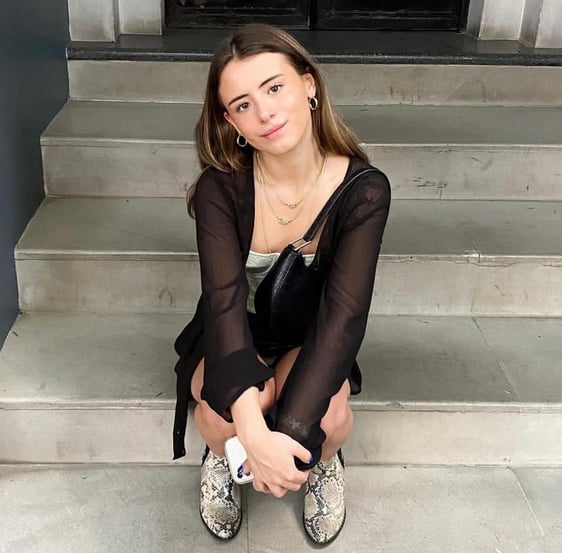 Hey Chelsea Foodies! 🎉
Are you on a student budget but craving some delicious eats in the heart of Montreal? Look no further! We've hunted down our own top 10 cheap places to satisfy your cravings without breaking the bank.
1.Petit Poisson Dumpling- 1813 St Catherine
Dive into a world of handmade dumplings right on St Catherine Street. These little pockets of joy won't cost you more than $25, and will keep you coming back for more!
2. Drogheria Fine - 68 Av Fairmount.
If you've been living under a rock and haven't heard of this gem, prepare to be amazed! Enjoy the best $5 Gnocchi in Mil-End Montreal, surrounded by street art and cozy coffee shops. An artful delight for both your taste buds and eyes.
3. Poke Bento - 1452 St Mathieu Downtown
Just a few steps away from Chelsea House, yo can get the best poke bowls for just $20. And guess what? You can also claim a FREE bento box with that - a second meal for free! You also can't miss their sweet potato fries and spring rolls.🤤
4. La Toxica - 7121 Rue St Hubert
Calling all Mexican food lovers! Enjoy $5 margaritas on Thursdays and ALL YOU CAN EAT tacos 🌮 for just $20. A fiesta for your taste buds!
5. Panda Dore - 14 R. de la Gauchetière E Montréal-Est, Quebec
In the middle of Chinatown, this spot is a haven for noodle fans. Dive into a massive, flavorful noodle plate for two, at only $13. A noodle lover's dream come true!
6. Café Club Social - 180 Rue St Hubert
Transport yourself to Italy with their $10 sandwiches that you can customize to your heart's content. A taste of Italy right here in Montreal!
7. Hinnawi Bros - 2002 Mackay St
Grab a quick bite between classes, and get the best anc cheapest salmon bagels for just $10. Right next to Concordia Library and Hall Building ?! 😱makes it a perfect spot for a post-class snack.
8. Pizza Toni - 104 Rue St Viateur
Grab a delicious slice of pizza for only $3.75! I've to say they are truly insane!
9. Burger De Ville - 5282 St Laurent
Taste the freshness with their "always fresh, never frozen" burgers! Is their slogan and it lives up to it!😎🍔. Customize your own burger with 20 toppings for just $8.50. That's burger heaven!
10. Rôtisserie Chicken at Chalet BBQ - 5456 Sherbrooke St
Been looking for a good and affordable BBQ and chicken place? This is for you! Savor a two-leg meal with fries and coleslaw salad for only $19.25. Juicy, flavorful, and easy on the pocket!
Bon appétit, fellow food explorers! 🍽️
Here's a google map link for the list 🤗 Ariela's Top food spots!
MONTHLY MEMBER RAFFLE 🎟️ 🔥
Since it's the first time, the September raffle will be done next Tuesday 5pm so everyone can participate from now until then. Still a Chance to win! 🤗
How do you enter the raffle, you may ask?
🎟 Tag @livingatchelsea on your instagram Stories (1 entry)
🎟 Post a photo and tag @livingatchelsea (2 entries)
🎟 Post a video and tag @livingatchelseea (3 entries)
🎟 Make a reel for the Chelsea House instagram page (10 entries)
🎟 Film a testimonial on your experience and Chelsea House (20 entries)
🎟 Get your parents to film a testimonial on your experience and Chelsea House (25 entries - because we love feedback from Mom and Dad ❤️ )
Upcoming Events 🚨📣🚨
"COLLEGE HOUSE PARTY" - this Saturday Oct 7th, 2023
Get ready for an unforgettable night of fun and entertainment! 😃 Our expert house party planner, Ariela, has curated an amazing lineup of activities that will make this evening truly special. 🎉 From striking your best poses in our fabulous Photo Booth to capturing every moment with a professional photographer, we've got you covered for picture-perfect memories. 📸✨
But that's not all! Ariela Roji, our resident expert, is whipping up delicious Jello shots that will add an extra layer of excitement to your night. 🎉 And for those who love a bit of friendly competition, we're hosting an epic beer pong tournament with a fantastic prize. 🏓 It's all about creating unforgettable experiences, and we even have some special guests from 2075 Lincoln joining us to make this night truly unforgettable. 🌟 Get ready for a night of laughter, camaraderie, and memories that will last a lifetime! 🎉🍻💯
When: October 7, 2023 📅
Where: Chelsea House Lounge 🏠
MEMBER SPOTLIGHT: Rachel from Nelson, Canada! 🇨🇦

(Btw we put everyone's nationality flag so you learn your flags and realize how global the CH Fam really is)
Meet Rachel from Nelson, Canada 🇨🇦
Rachel will be diving headfirst into the world of Fashion Marketing at La Salle! 🏫💃. 🏫
She is someone who delights in the company of friends 😄, finds solace and inspiration in reading 📚 and journaling 📓, expresses her creativity through baking 🍰 and cooking 🍳, savors the simple pleasure of leisurely walks 🚶‍♀️, and embraces the thrill of exciting adventures 🌄.
If you happen to bump into Rachel throughout the House, make sure to say Hi ! 👋
SHOW ME THE MONEY!! THE STUDENT JOB BOARD FOR SOME PART-TIME CASH $$$
Student Research Assistant @ Mcgill University seeking a dedicated research assistant to support systematic reviews on opioid prescribing policies' impact on patient access to pain management and health outcomes. Additionally, you'll assist with knowledge dissemination, meetings, and conferences. Apply here.


Student Ambassador/ Tour Guide @ Mcgill This role includes hosting campus tours, greeting clients, managing schedules and documents, offering event support, and guiding tours. Weekly hours vary based on events, requiring availability on either Monday or Friday mornings for campus tours. Apply here.




Red Bull Student Marketeer @ Red Bull

Join as a Brand & Product Ambassador, where you'll embody our brand's values, engage consumers, and grow our user base through innovative campus initiatives and social media. Be a Sales Expert, forging relationships, expanding distribution points, and maintaining Red Bull's visibility in outlets.

Apply here.




🚨HOUSE UPDATES🚨


REMINDERS 🚨
Laundry
We've noticed this week that it's happening a few times that members are forgetting their laundry when their cycle is done, forcing others to have to wait to use the machines. laundry traffic.
We want to remind you that you must take responsibility for their laundry and ensure that they collect all of their items once their load is finished.
While we provide laundry facilities for your convenience, we cannot be held responsible for any missing items.
Pro tip: to help you keep track of your laundry and avoid any mishaps, we recommend setting a timer on your phone. This will avoid someone putting your clothes in the dryer to free up a machine – and whoops your favorite shirt accidentally shrunk.
Are you enjoying your Chelsea House Experience so far?
It would mean the world to us if you could take a few minutes to share with us your thoughts (check out the link below).
Alright, that's it for now!
Stay Classy,
The Chelsea House Community Team
Missed last week's Newsletter? We got you! 😉 Click here.