Montreal Warmth is Back, Finally! 😎 - CH Newsletter #63 (April 14, 2023)
Posted on :
April 14, 2023
As part of joining our private student residence, our members receive weekly updates about the community, upcoming events, developments in the student residence and any other relevant news. We've decided to post these updates on our website in order to let our visitors looking for student housing get an inside view of the Chelsea House student life!
Dear Chelsea House family,
Hey, hey, CH Fam! As the last of the freezing weather finally fades away 😌, now more than ever is the time to explore and experience everything our amazing city has to offer!!
From BIXI rides, a terrasse bar, and a musical show, we got something for everyone in this week's newsletter! We will also highlight some of the epic events that happened at CH last week as well as an equally amazing party happening tomorrow (Saturday), so you don't miss out on anything.
Let's jump right in! 🔥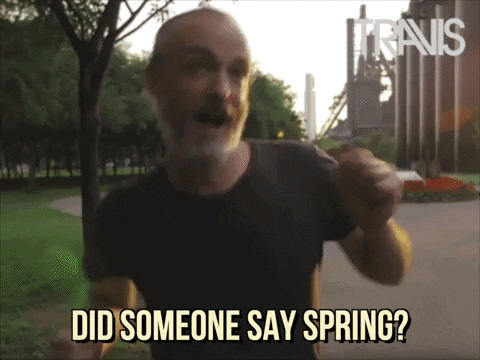 THE INSIDER'S REPORT: MONTREAL NEWS YOU NEED TO KNOW
If you're new here (which many of you are - we've added 4 new members who are coming in Fall 2023 this week!! They'll be lurking in the newsletter from here on out 😝) - the Insider's Report is where you benefit from the Community Team's local Montreal knowledge to guide you, dear CH student residence members, to what we hope is a true student housing experience. In all cases, forget the tourist traps, here's WHAT YOU NEED TO KNOW, for this week.
Ride a BIXI 🚲 along the Lachine Canal
Alright, it's finally
BIXI season
, CFam!!! If you have no idea what a BIXI is, it's basically a a public bicycle-sharing system
(bike 🚲 + taxi 🚕)
, that's an affordable and environmental friendly way to explore the city we all love.
Beginning this weekend (weather permitting), you can finally take
scenic bike rides along the Lachine Canal
as the snow melts. If you're lucky enough, you'll have the chance to ride one of the artistically decorated bikes by local street artists.
Check out the BIXI station map
here
.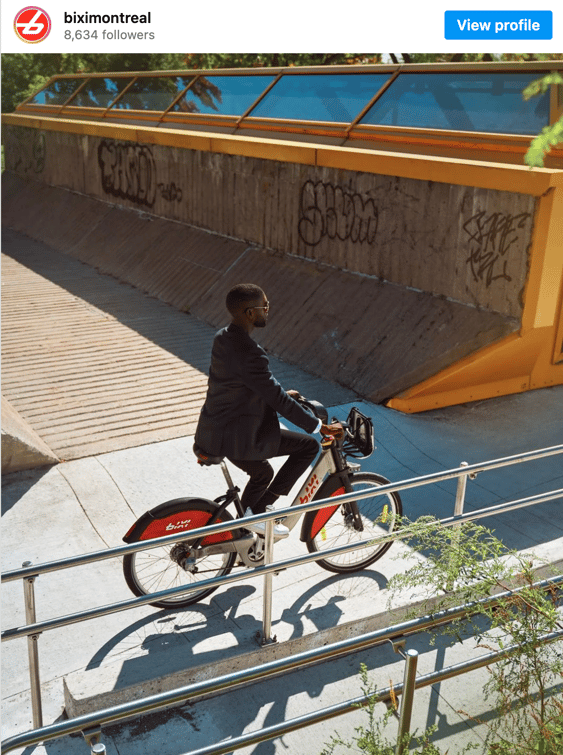 Welcome spring with a bang and visit one of the hippest terrasses in the Montreal called Bar Palco. It's located at rue Wellington (a 15 min. metro 🚆 ride from CH). Relax and enjoy with friends over a couple of cups of coffee or other drinks until sundown. Go out and make the most out of the warmer temps. You deserve it! 🌤️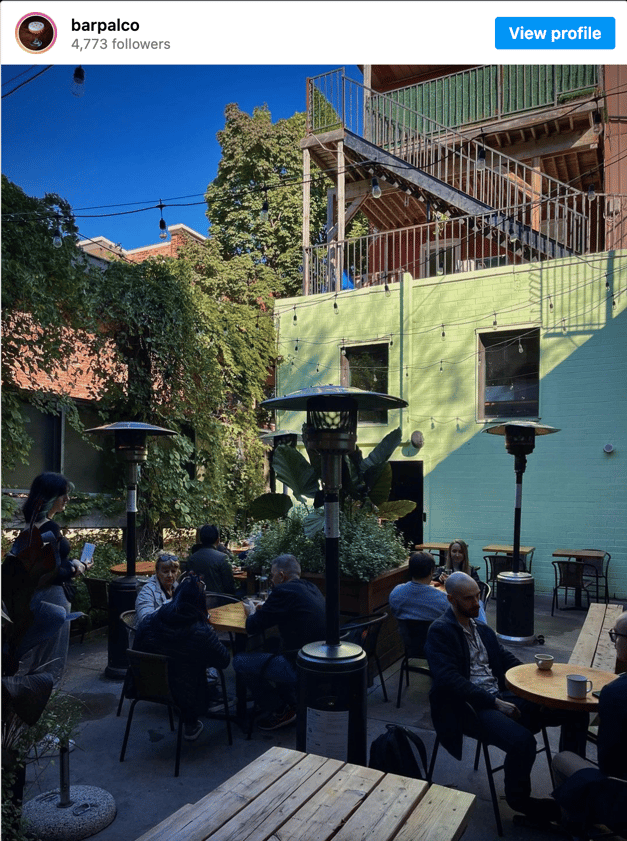 Watch Alice in Wonderland-inspired Musical Concert 🎩
Prepare yourself to be transported to
a whimsical world
as you attend a Broadway musical show in downtown Montreal. The musical is based on the famous story "Alice in Wonderland" and is called
"Mad Hatter The Musical." 🎩
It will premiere this Sunday, April 16th at the
Place des Arts
, featuring a live performance by a talented cast and accompanied by the
Longueuil Symphony Orchestra
.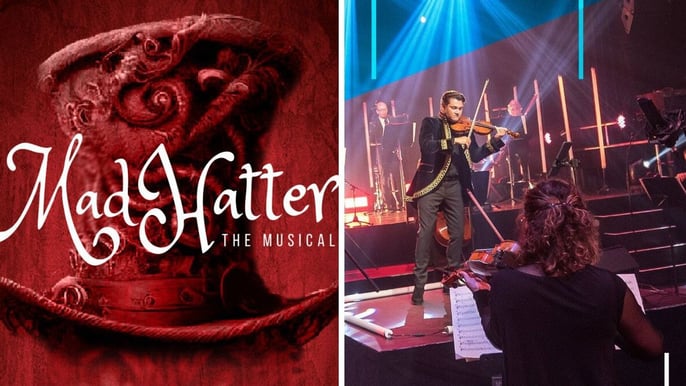 CHELSEA HOUSE COMMUNITY VIBES UPDATE
EVENTS RECAP:
Beach Party 🏖️ hosted by Leonore, Bibi, and Julie 🇫🇷
Congratulations to our French girls,
Leonore, Bibi, and Julie 🇫🇷
for hosting a successful Beach Party 🏖️ last Friday 👏🏻
Great news to mom and dad at home, everybody got the memo and nobody came in their underwear 👀 If you missed out on the fun, check out these cute photos sent by one of our hosts!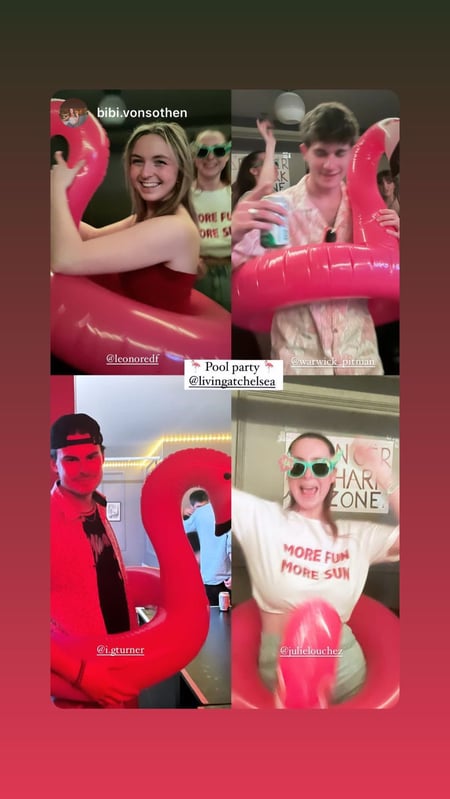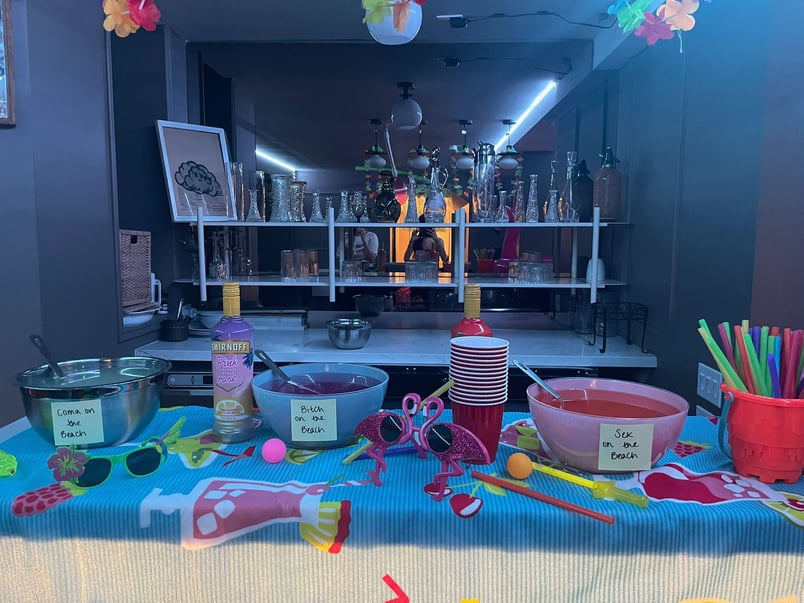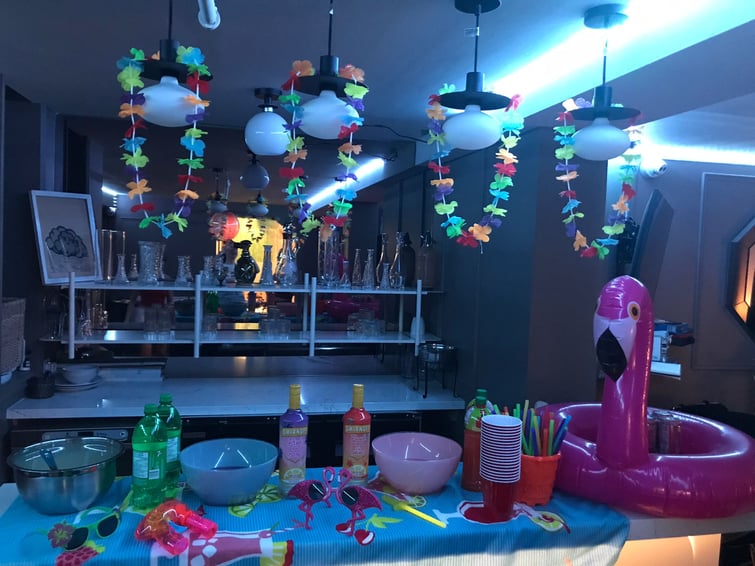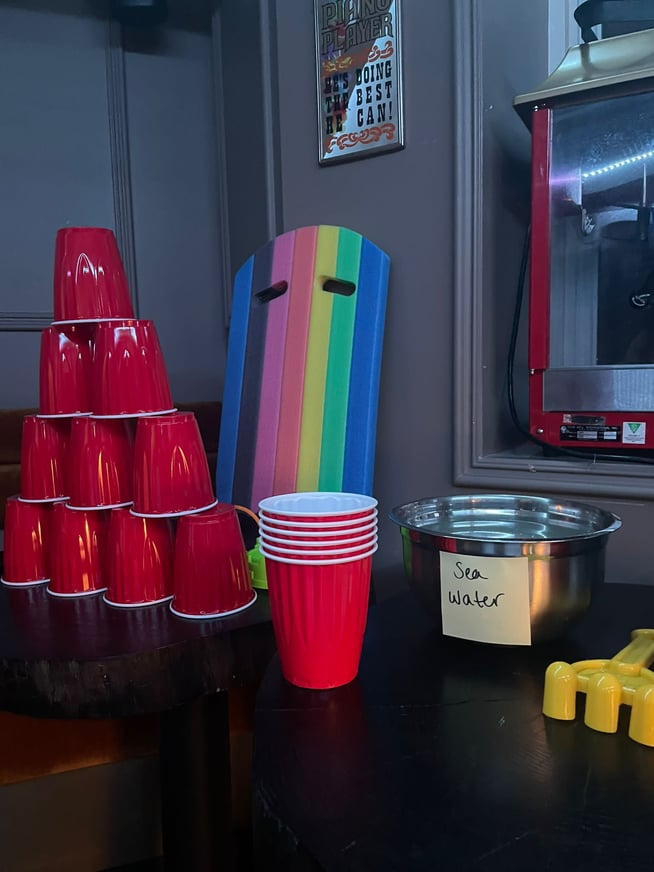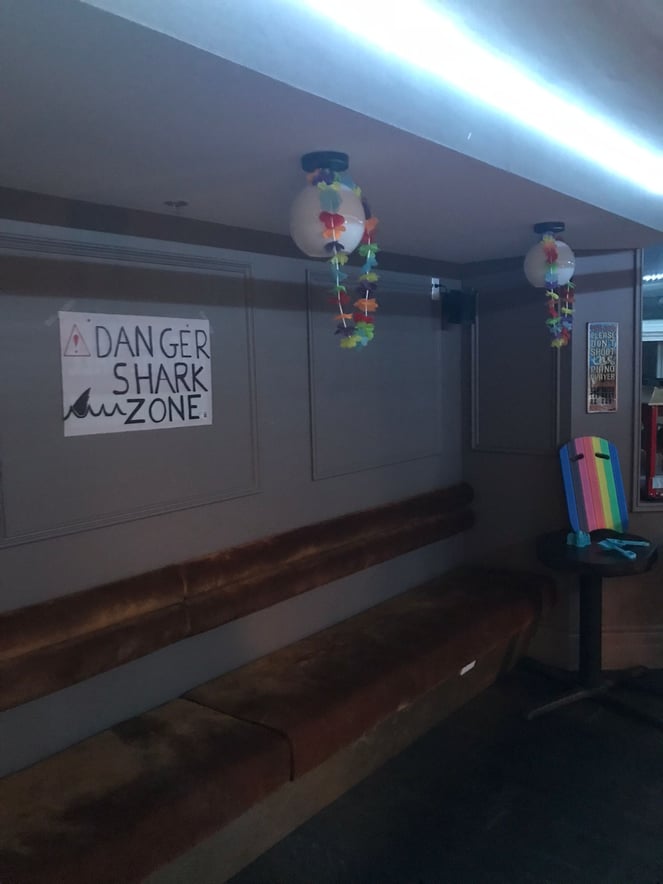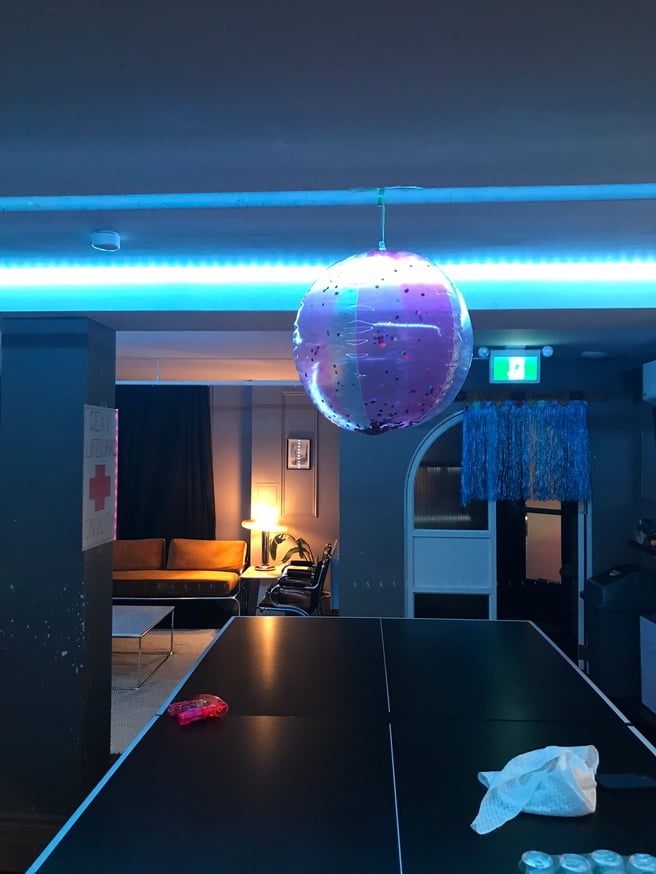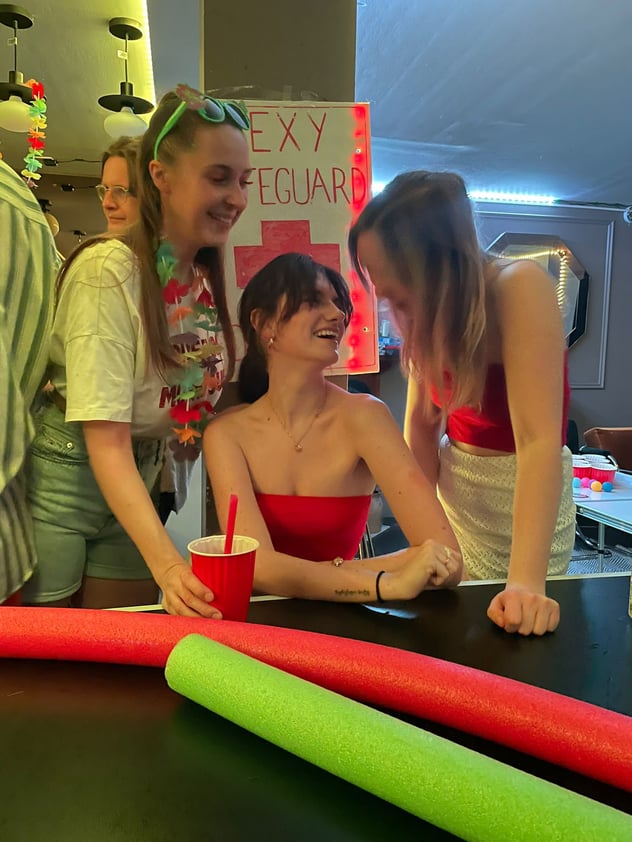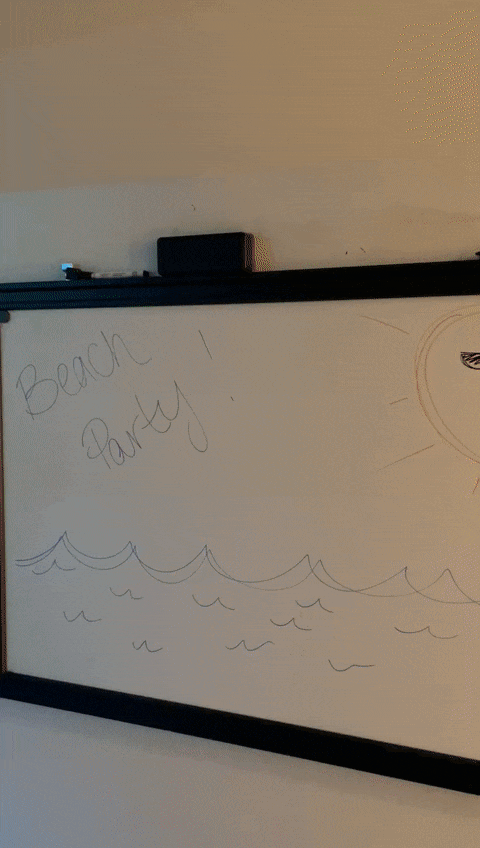 Easter Sunday Brunch with CFam 🐣 hosted by Ariela 🇲🇽
Kudos as well to Ariela 🇲🇽 for throwing a fun and festive Easter Sunday Brunch 🐣 with the CFam last weekend!
Can we just say that we are so so proud to see our CH girlies stepping up and making sure that their fellow members enjoys their last few days this semester at the best student residence in Montreal!!!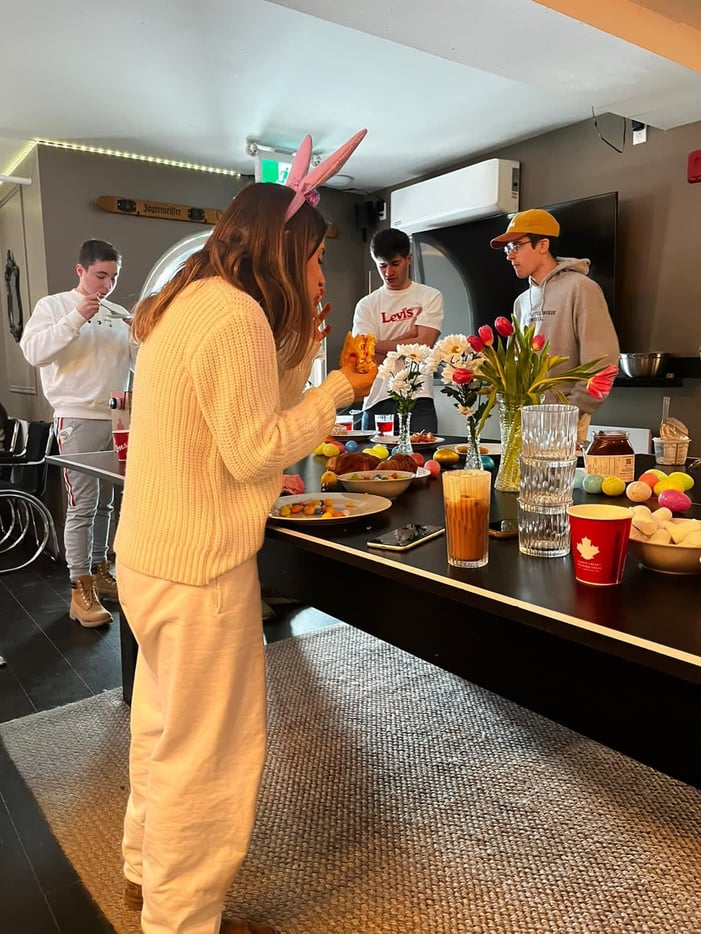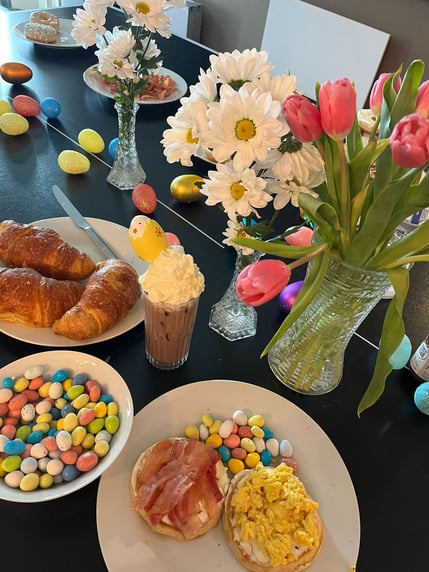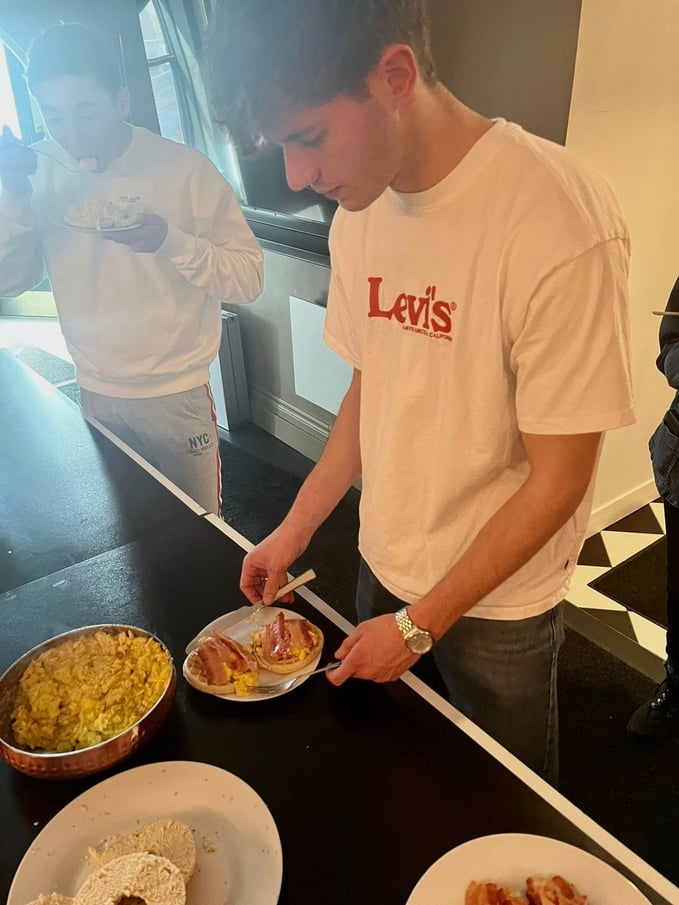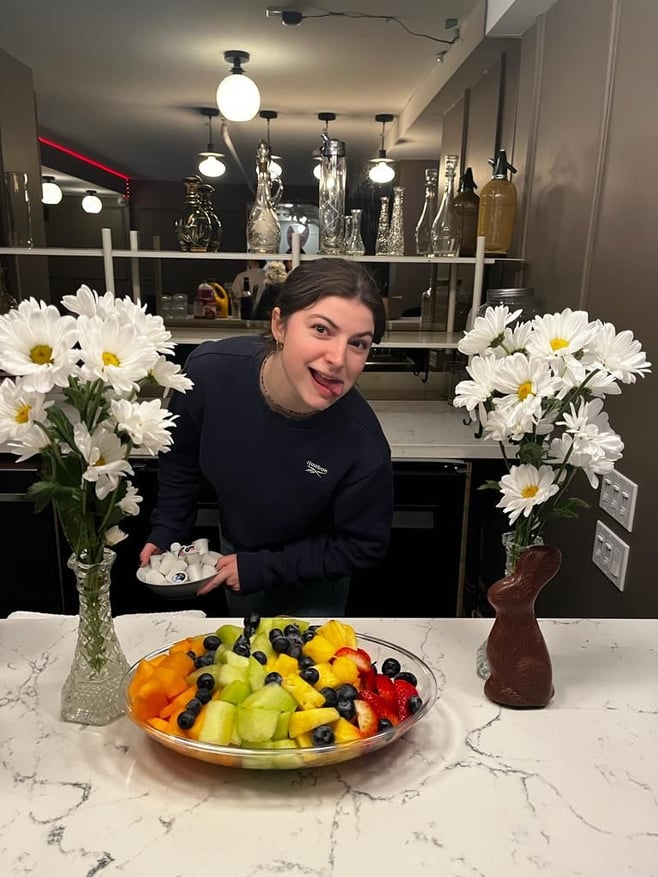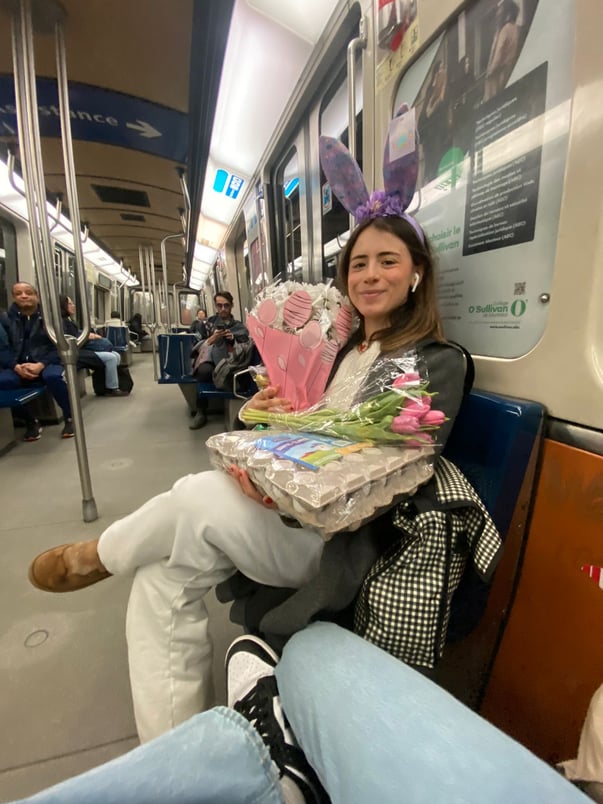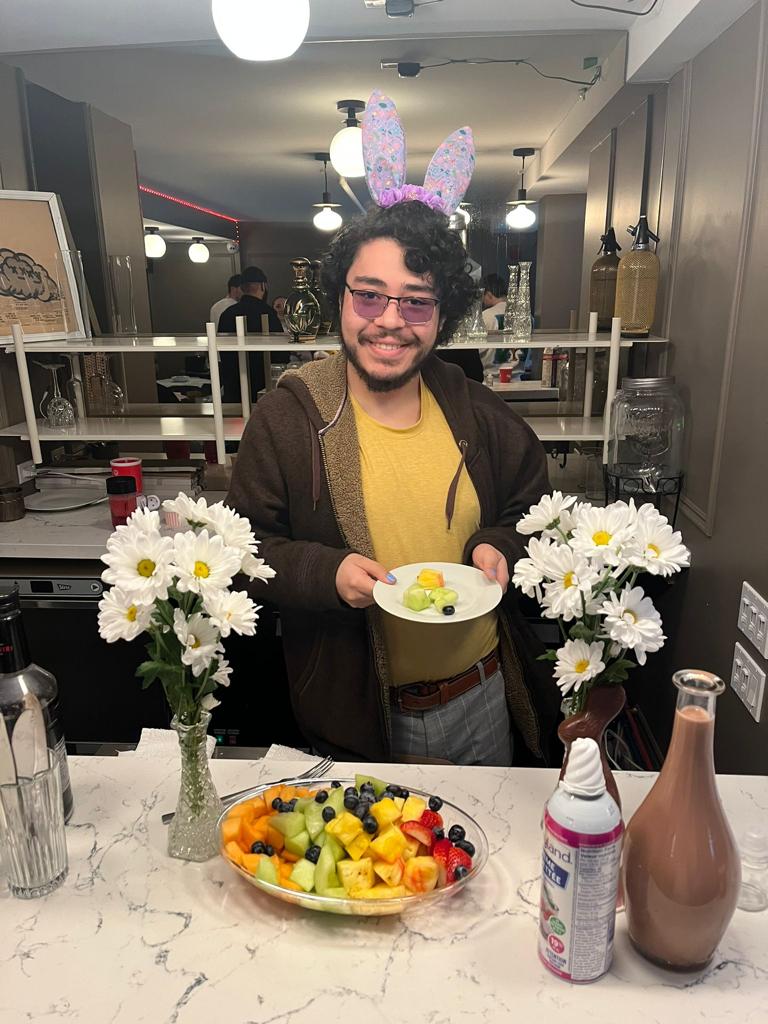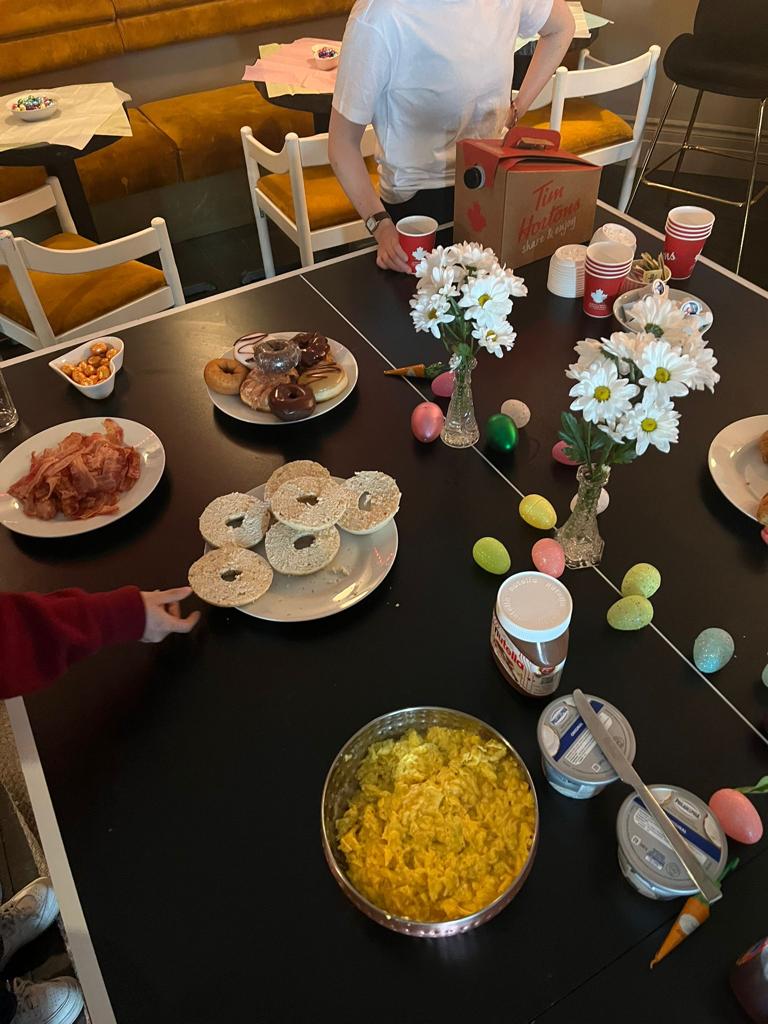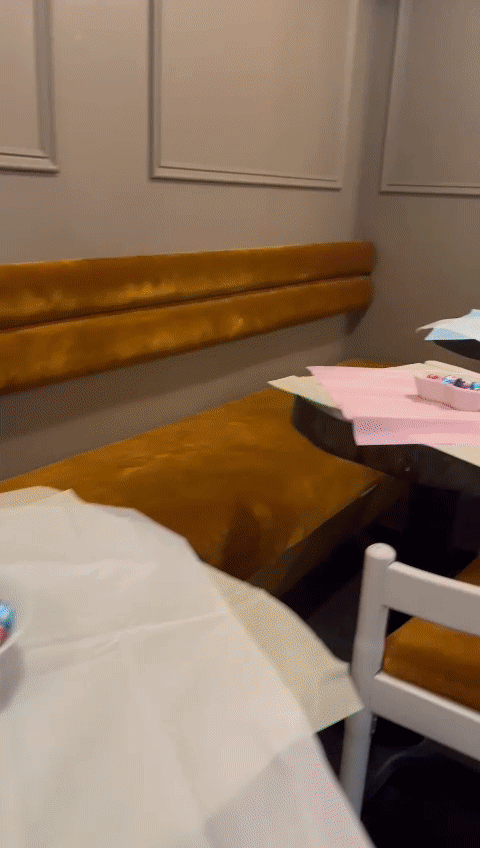 UPCOMING EVENT: 80's Party by Apt 14 girls 🇲🇽🇺🇸🇩🇪
Speaking of CH girlies stepping up, Ariela 🇲🇽, Anouk 🇺🇸 and Zoe S. 🇩🇪 of Apt 14 will be leading the pack this Saturday! They will be hosting an 80's themed party and even got our in-house Italian DJ, Alessandro 🇮🇹 to perform as the guest of honor 🥳
Don't miss out and make sure to come in your best 80s outfits! We can't wait to see your photos and videos! Tag us on CH IG tv 📺 (@livingatchelsea on IG)!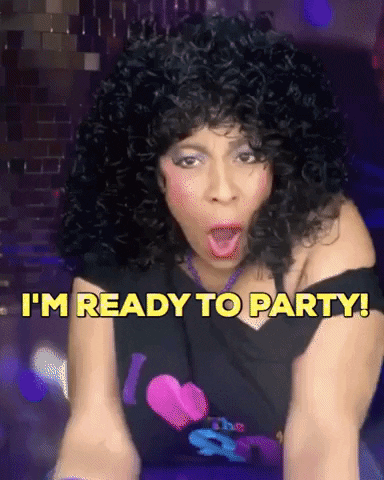 MEMBER SPOTLIGHT: BAPTISTE from FRANCE 🇫🇷 (Btw we put everyone's nationality flag so you learn your flags and realize how global the CH Fam really is)
Hey, gang! This week's member spotlight is on Baptiste from Paris, France 🇫🇷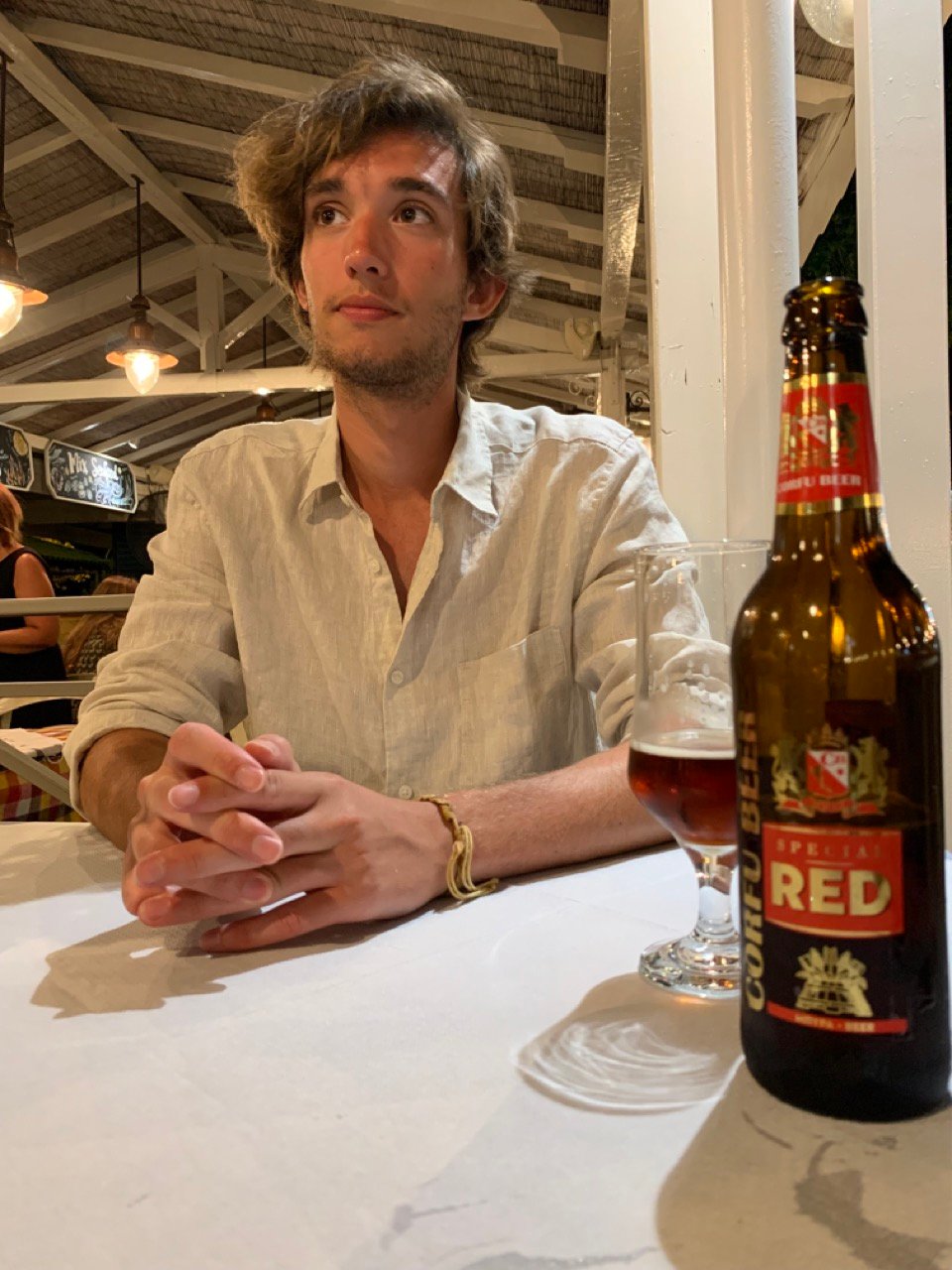 He is currently taking up Engineering 👷‍♂️ at École de technologie supérieure (ÉTS) Montréal 🏫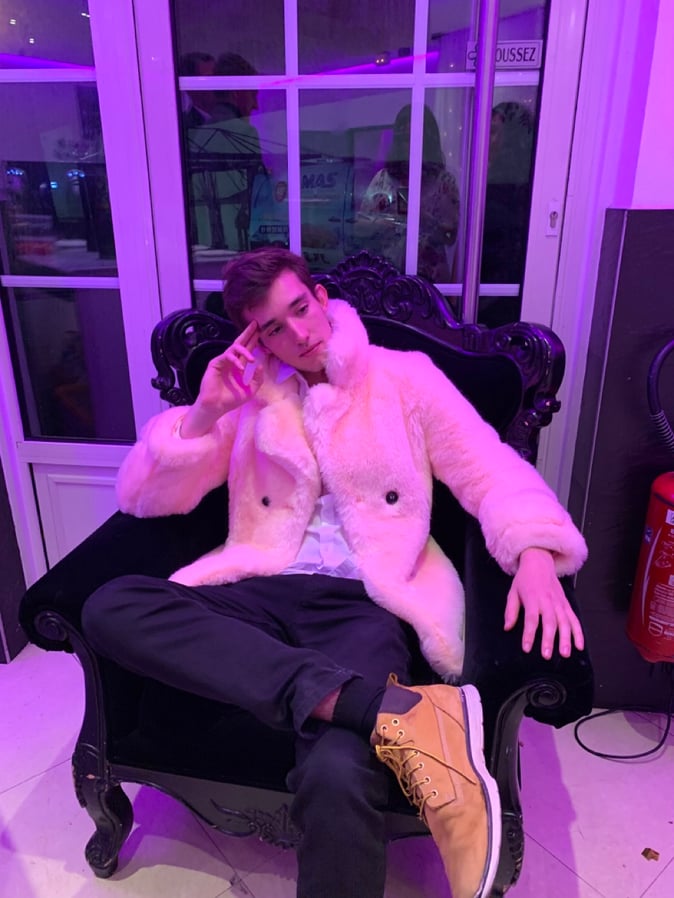 Baptiste joined the Chelsea House family because he wanted to
meet people from all over the world 🌍
and the amazing experiences it offers.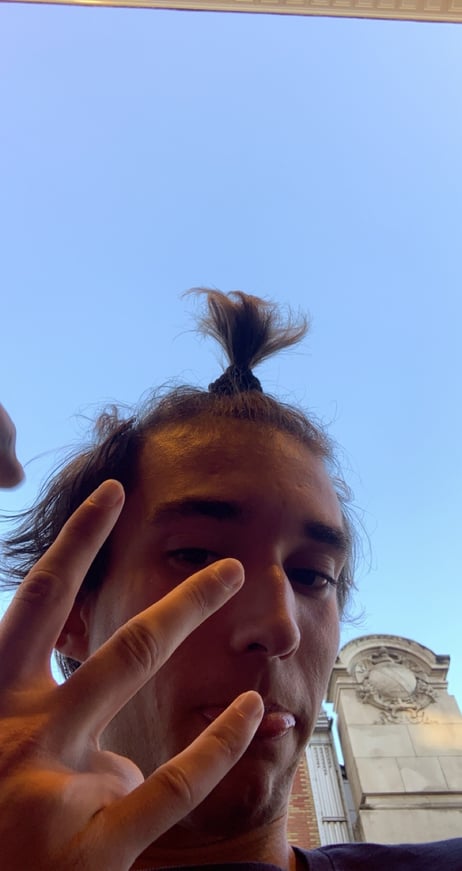 He likes to spend his free time playing sports (particularly tennis 🎾) , video games 🎮 and going to parties 🎉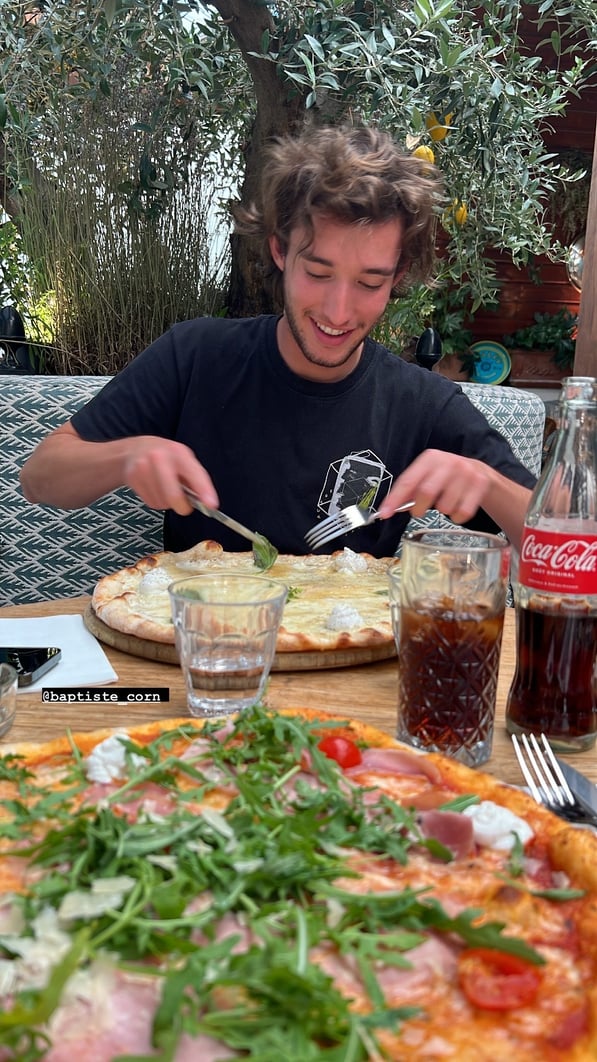 To his friends and family, Baptiste is a sociable, thoughtful, resourceful guy who is always looking to experience new things!
Thank you for choosing Chelsea House 🏡 as your home away from home, Baptiste 🥹
SHOW ME THE MONEY!! THE STUDENT JOB BOARD FOR SOME PART-TIME CASH $$$
Retail Sales Associate @ Best Buy |

Best Buy is looking for someone who will be the face of their shops and assist customers with finding the perfect product or service, no experience needed. The candidate should be customer-oriented, adaptable, and can to maintain a safe work environment. The job offers flexible hours, discounts on technology, competitive salary/benefits, and training programs.



Front Desk Clerk @ Mariott International | Job description for this role is pretty straightforward - process check-ins/check-outs, payments, and guest requests. Once hired, you will also coordinate with housekeeping, provide directions, and run daily reports. If you think you can withstand standing, sitting, or walking for extended periods, and lifting objects up to 10 pounds, this job might be the one you're searching for!



Wrapper @ IGA |

The company is seeking for a motivated and resourceful individual with interest in food. Those with retail or customer service experience are preferred. Note that the job involves providing excellent customer service and working efficiently with a courteous attitude towards customers.


HOUSE UPDATES
REMINDERS ON MOVE-OUT INSPECTIONS 🚨
As we approach the end of the semester, we would like to give a few reminders to the members and inform the parents regarding the required inspection before leaving CH.
Every CH member needs to complete their move-out inspection. This is our opportunity to document any damages or missing items in your apartment at the start of your lease.
During your inspection, we count the inventory of what you have in your apartment (kitchen equipment, furniture, accessories, etc). Your move-in and move-out inspection reports will be compared and whatever is missing will be charged to the member. If you go hangout in another apartment with a glass of wine – don't forget to bring your wine glass back with you. The same idea applies for damages. If the damages were not declared at the time of move-in, you will be charged for them. Missing items and damages in the common areas of your apartment will be shared equally between all roommates.
Parents – please note that it is 100% normal that some breakage occurs during the stay of your favorite student. Our weekly housekeeping, the fact we only have amazing members really mitigates the risk of high damages, but mistakes do happen (like if your son didn't know you can't put metal in a microwave oven lol). As a reference point, there was an average breakage last year of 74$ per member. When factoring the cost of outfitting each apartment (aprox. 15,000$) this is a fraction of the cost to have full access on great equipment, furniture and facilities. Our objective is simply to keep the House fully equipped and amazing for the next years :)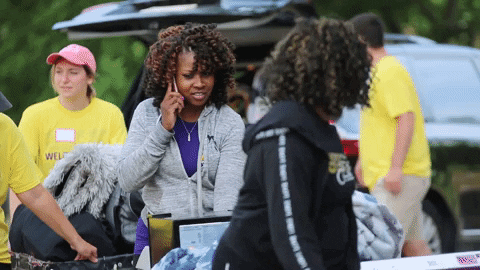 Any vacant bedroom cannot be used by visitors or members and must always remain locked.
Chelsea House reserves the right to assign a new member to a vacant bedroom at any time throughout the year. Should a new member be assigned to your apartment, you are expected to tidy all common areas of your apartment for their arrival.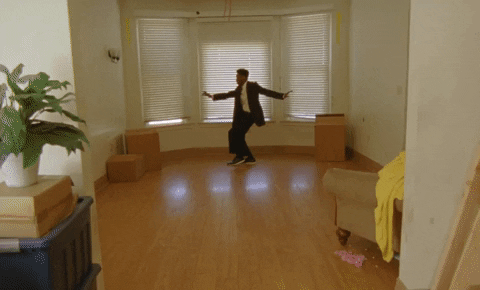 Apartment and room decorations
It is prohibited to make any holes in the walls or use any tape to put up posters, lights, etc. that will risk chipping the paint. You will be responsible for any paint chips on the wall that need to be retouched. We have blue sticky tack available in the office to put up your pics and posters that won't damage the walls.
Applicable fee for paint repair: $175 per wall.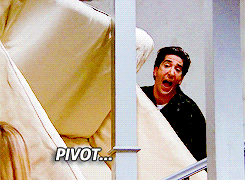 Are you enjoying your Chelsea House Experience so far?
It would mean the world to us if you could take a few minutes to share with us your thoughts (check out the link below).
Alright, that's it for now!
Stay Classy,
The Chelsea House Community Team
Missed last week's Newsletter? We got you! 😉 Click here.